October 3, 2016-March 29, 2019
The North Coast Soil Health Hub is getting its start with a CDFA Specialty Crop Block grant awarded to Mendocino Resource Conservation District to work with grape growers to build a farmer-to- farmer soil health demonstration network. This grant is enabling North Coast grape growers  to further investigate the successes and challenges of adopting soil health and climate resilient practices. Grape growers in the three counties are working with RCDs, NRCS, UC Research and Extension Centers, California Sustainable Winegrowing Alliance and other partners as industry leaders in California and around the country.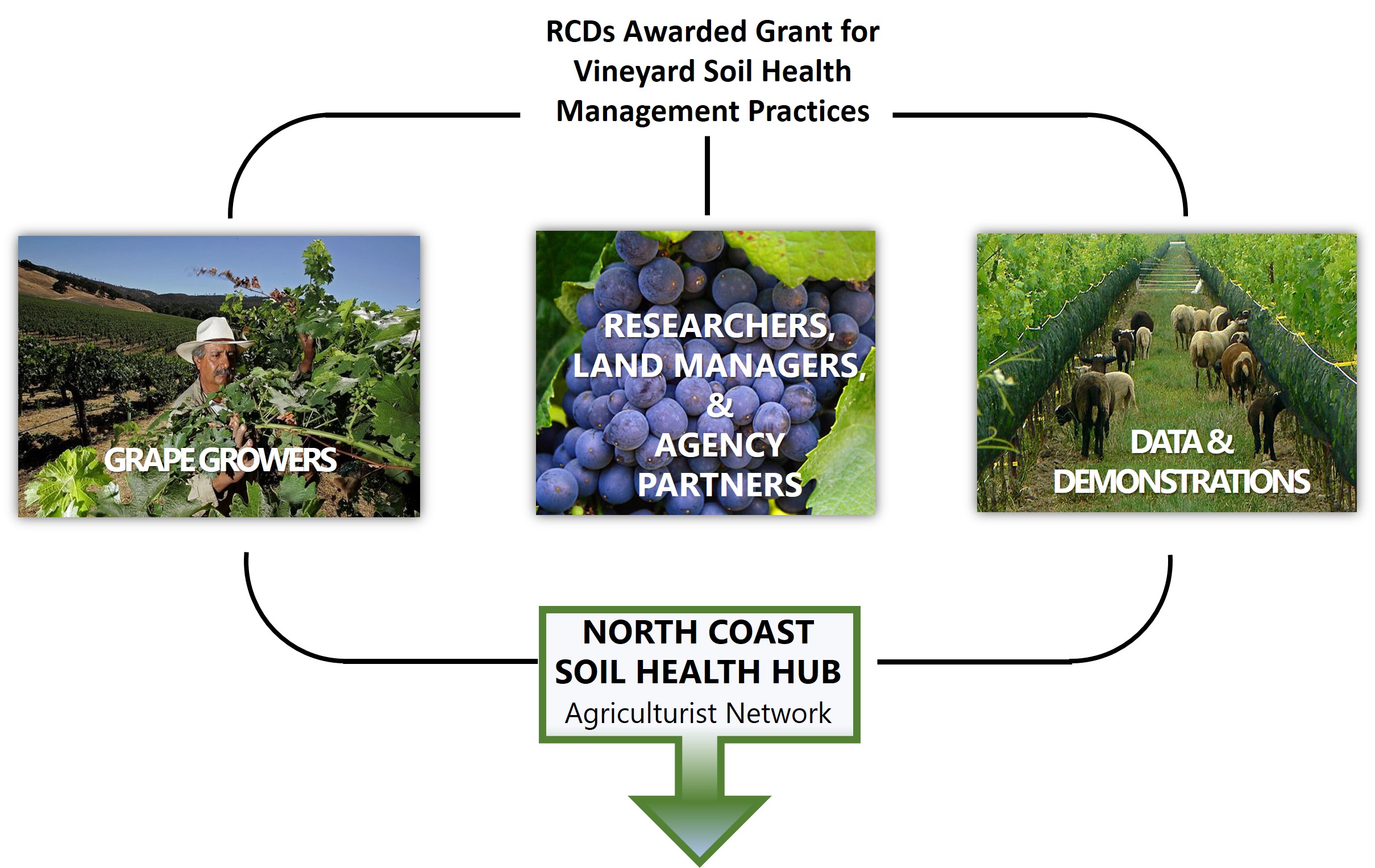 Sonoma, Napa and Mendocino counties are a viticulture region along the coast of Northern California.
Number of vineyards & acres per county:
Mendocino  570 vineyards, 17,000 acres; Sonoma 1,800 vineyards, 60,000 acres; Napa 700+ wine-grape growers, 43,000 acres
AVA:
The North Coast AVA is the major American Viticulture Area that encompasses Lake, Marin, and Solano counties in addition to the tri-county 'hub' of Mendocino (10 sub-AVAs), Napa (16 sub-AVAs) and Sonoma (17 sub-AVAs).
Geology & Soils:
Steep mountains and hilly terrain were formed by the region's active plate tectonics. The dominant geologic formation present in Sonoma and Mendocino counties is the Franciscan complex. The Franciscan Complex also known as Franciscan mélange is a mixture of more resistant rock types (blue schist, chert, basalt) mixed in with less resistant mudstone, shales, and sandstone. The soils vary greatly in depth and native fertility. In Napa County the dominant geographic formation is the Rutherford Bench, an alluvial fan spreading over the valley. The soils consist of sediments deposited by earlier advances and retreats of San Pablo Bay, or can contain a large volume of volcanic material, remnants of a once volcanic past.
Climate:
The max and min average rainfall data by county.
These are 30-year Normals from the PRISM Climate Group:
Mendocino County: 21-61 inches,
Sonoma: 22-78 inches; and,
Napa: 35-97 inches.
Temperatures in the region vary greatly depending on their proximity to the coast and elevation. While the coast stays temperate all year round with the average low of 44 F and high of 60 F, the inland areas average low is in the mid forties and average highs range in the sixties to seventies, with highs reaching over 100 F in some areas.
sources:
https://napavintners.com/press/docs/napa_valley_fast_facts.pdf
http://www.mendowine.com/media/media-kit.php
http://www.sonomacounty.com/articles/sonoma-wine-facts